What is Assisted Living and When To Consider It For A Loved One?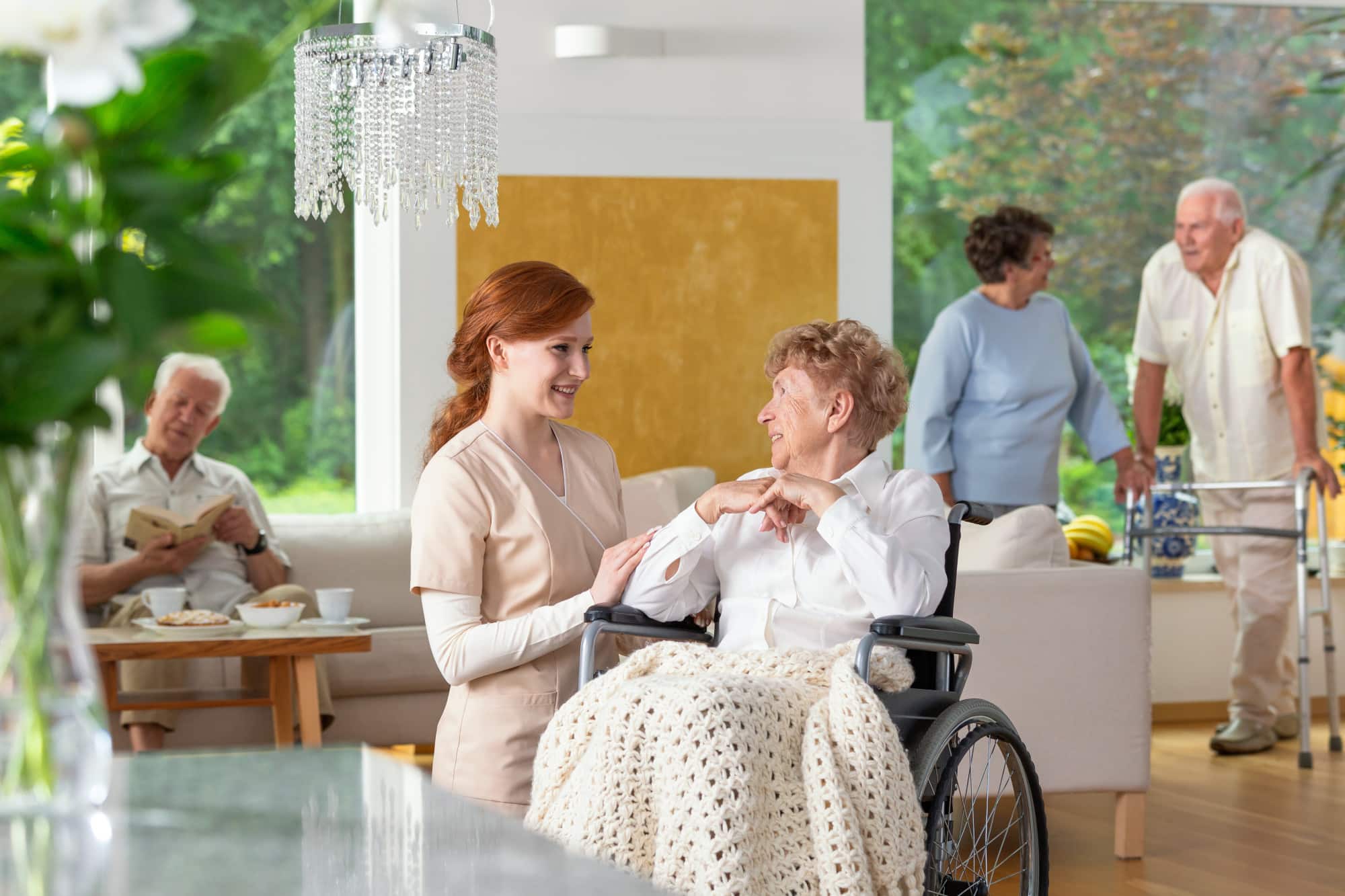 November 6, 2022
In the US, nearly 70% of all retired citizens will need some form of long-term care in their senior years. Whether that care is in the form of assisted living, memory care, or nursing home care will depend on the depth of need. 
Many seniors will start needing assisted living. 
You might wonder what services are offered through an assisted living arrangement. More importantly, if you have a loved one in their senior years, you might wonder if it's time to consider assisted living for them. 
Read on to learn more about assisted living and how you know if it's time to consider this type of care for your loved one.  
What Is Assisted Living?
Your loved one may have a preconceived assisted living definition that they equate to a nursing home or being 'put in a home.' 
In fact, assisted living homes have become so much more, and many seniors quickly realize it's like moving to a new home instead of being put in a home. 
Many assisted living locations offer separate apartments or suites for residents that can be set up with their own furniture and items from home, making this space feel like home.  
Signs Your Senior May Need Assisted Living
While many seniors will resist assisted living, paying attention to the clues that it is time is essential. 
In many cases, subtle and not-so-subtle ways indicate your loved one needs more help. They show signs that they're struggling to live on their own. 
Difficulty With the Activities of Daily Living
There are two terms often used in evaluating how a person manages living independently: basic Activities of Daily Living (ADL) and Instrumental Activities of Daily Living (IADLs). 
Many of the warning signs on this list are connected to ADLs. 
Basic ADLs include:
Ambulating
Feeding
Dressing
Personal hygiene
Continence
Toileting
IADLs include things like:
Transportation and shopping
Managing finances
Shopping and meal preparation
House cleaning and home maintenance
Managing communication
Managing medications
If your loved one starts to show signs of struggle with the items that are connected to activities of daily life, they almost always need more help, and it's time to consider assisted living. 
Decline in Health
One sure sign your loved one needs more help is a decline in health. It might be an age issue, and their health is just getting worse. 
It might also be that they're recovering from something and need more help. 
As their health declines, taking care of many other daily living things becomes too much to handle, and more involved care is needed. 
Fall Risk
As many seniors age, their secure ability to move around decreases. Falling as a senior can cause other significant risks, like a bone break. 
You should be concerned if your loved one shows signs of instability. If your loved one has had a recent fall, you have a genuine reason for concern. 
You certainly don't want your loved one to take a fall and be left lying on the floor without help. 
As an assisted living resident, you know your loved one will be cared for to avoid the risk of a fall and further injury.
Medication Issues
If you notice your senior living on their own and struggling to keep up with their medication, it's a warning sign they may need more help. 
Not taking medication can be dangerous. Or worse yet, taking it incorrectly can be another danger to their health. 
In assisted living, your loved one will have the support needed to ensure they take their medication at the right time and dosage. 
Nutrition Issues
Many seniors face struggles with food. They either have a hard time shopping for food or preparing food for themselves. Some seniors even forget to eat. 
If you have a loved one with mobility issues, they may be struggling with food preparation or even the ability to prepare single servings of food. 
In assisted living, not only do meals get prepared for them, the caregivers will also make sure they're eating. 
Poor Hygiene
It's not uncommon for many seniors to struggle with self-care, including things like bathing and brushing their teeth. You may notice that your loved one isn't clean or has body odor that they didn't use to have. 
Some will simply forget to bathe and wash up, and others won't do it because it's too hard to do on their own. Whether they struggle to get into and out of the shower or bath or can't safely reach their own body parts for cleaning, it's time to get them some help.
Being clean is important to maintaining a healthy lifestyle. You don't want your loved one to be dirty because they can't handle caring for their own hygiene. 
Mobility Issues
For many seniors, mobility issues lead to other problems. In addition to worrying about them falling, you should worry if they're getting enough active movement in their day. 
Can they safely get up and down from a chair? Should they be still driving? Sometimes mobility issues mean they can't get themselves to the supermarket or doctor's appointments. 
Mobility issues might also just present themselves as inactivity. Some seniors will compensate for their struggles to move about by saying they just want to stay still. 
Overwhelming Home Maintenance
If your loved one lives on their own, you may notice a decline in the condition of their living environment. Maintaining a yard can be overwhelming and even dangerous if they still own their own home. 
They may struggle to keep the place clean, whether it's their own home or a condo or apartment. It can be challenging to bend and clean a bathroom or keep floors clean.
While they may be struggling, the loved one is often resistant to outside help coming into their home. 
Need More Socialization
As your loved one ages, they may have fewer opportunities for socializing when they live on their own. 
Social interactions are important to help stall the aging process and encourage activity. It helps keep the brain active and engaged and generally makes a person feel better when they're around friends. 
In assisted living, there are ample opportunities to interact and do activities with other residents. 
Messy Living Conditions
Do you walk into your loved one's home and think, "Oh my, what a mess!"? This is a sure sign they need more help. 
It might be that the place is just cluttered with newspapers and mail. It might be that dishes are piling up in the sink. 
If they aren't keeping their living environment clean, especially if they used to be very fastidious about such things, then they need more help. 
Changes in Behavior  
Many families will begin to notice their loved one is displaying concerning changes in behavior from their usual personality. 
They may come across as more angry or even aggressive. They become defensive or mean when asked about how they're doing.  
Sometimes, a loved one will just seem unhappy. Aging can be a difficult life stage to navigate, and it can make many seniors feel blue or frustrated. 
About 22% of seniors between the ages of 84 and 89 have dementia. Changes in behavior can indicate they may be suffering from some form of dementia. 
Feelings of Isolation or Depression
You may notice that your once very social parent or loved one now stays alone for days on end. They choose not to leave their home. They avoid participating in social activities they used to enjoy. 
You'll need to consider what's driving their isolation. Can they not get to those activities, or do they not feel well enough to go?
Many seniors even suffer from some types of depression. 
Assisted living provided the social interactions needed. It also provides the check-ins by staff to ensure your loved one is feeling okay.
Concerns from Physician
If your loved one has a long-standing relationship with their medical provider, the doctor may notice some concerning changes. 
There may be a health condition that means they should no longer live on their own. 
Take the advice of a doctor seriously if they have concerns about your loved one living on their own. 
Current Caregiver Can't Handle the Load
You may already have a caregiver who comes into the home of your loved one to help them out there. 
If the caregiver finds they can no longer manage the amount of care your loved one needs, it's time to make a change. 
Some families will hire a caregiver to come in and check on their loved ones once a day. If medication or meals are being missed because that is no longer enough care, it's time to consider assisted living. 
Get the Help Your Loved One Needs
Sometimes deciding what's best for your loved one can be a real challenge. Many seniors resist and want to stay in the comforts of their own home. 
Yet, their safety and well-being should be paramount in your decision-making about what they need to live safely. 
If you're considering an assisted living option for your loved one, we can help. Visit one of our locations, book a tour, and check out our many services through our assisted living programs.